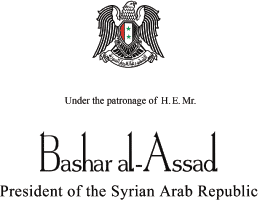 The Syrian Banking
&
Financial Services Conference 2006
'Integrating Syria into the Global Economy'
Damascus, Four Seasons Hotel, 3-5 November 2006
Organised by The British Syrian Society
The British Syrian Society is delighted to invite you to attend the Syrian Banking and Financial Services Conference 2006, which will be held Under the Patronage of H.E. Mr. Bashar al-Assad, President of the Syrian Arab Republic, in the Four Seasons Hotel, Damascus from 3-5 November. The conference, entitled " Integrating Syria into the Global Economy " will address the implications of a series of financial and banking decisions recently taken by the Syrian Government as part of its widespread Reform Programme.
The conference will analyse the opportunities resulting from the Government's decision to grant licences to ten privately owned banks – including three Islamic banks – and the possible change in the law that will allow international banks to have subsidiaries with majority control of ownership. The event will also include discussions on the new laws allowing for private insurance companies to operate in Syria, as well as the plans to launch a stock market, which will pave the way for great increases in the supply of capital for investment projects and lead to the transformation of the Syrian economy.
In organising this event, the British Syrian Society will be building on the acknowledged success achieved by the first Syrian Banking Conference held in Damascus in May 2004. The frank, open and sometimes controversial issues aired at that meeting left an enduring mark, which will necessarily stimulate interest in this follow-up Syrian Banking and Financial Services Conference.
As you can see from the attached programme, a list of distinguished speakers from the international banking and financial community have been invited as well as senior representatives of the Syrian Government and the burgeoning Syrian private banking sector.
This important gathering will offer a superb opportunity for regional and international Chief Executives and decision makers from major financial organisations and insurance companies to learn more about the far-reaching economic and legal reforms that are shaping Syria's economic future.
The British Syrian Society has negotiated a special discount with the Four Seasons Hotel and Syrian Airlines. Upon receipt of the attached Registration Form, we will send you a Confirmation Pack, which will include a Hotel Booking Form and a Flight Booking Form.
We look forward to receiving your registration form, validated by your payment, and to welcoming you to Damascus.
Yours faithfully,
Dr. Fawaz Akhras
Co - Chairman
Sir Andrew Green
Co - Chairman